On Thursday, 17 October 2013, I conducted two remote operations. Lots of folks have asked about the technology and configuration, so here's how it happened.

My home shack includes a Windows 7 computer, an Icom IC-706MkIIG HF/VHF/UHF transceiver, and a ZLP DigiMaster Pro3 soundcard/rig control interface. For what I did on Thursday full rig control isn't necessary. You need the ability for your computer to put audio into and take it out of your rig, and the ability for your computer to control the push-to-talk (PTT). Most any soundcard interface and PTT control that you would normally use for digital mode operation should work for remote operation. I also had a Webcam connected to my computer and pointed at my rig and interface so I could see the displays and blinky lights, but that is not absolutely necessary.





On Thursday morning at 10:17am EDT, I convened a special session of the AARC Digital Net (ADN) on the occasion of the Great ShakeOut earthquake drill. For that session, I used the fldigi digital modes software that we normally use for the ADN. The difference this time was that I was doing everything by remote controlling my shack computer from my hotel room in Los Angeles (well, Anaheim, about a ten minute walk from Disneyland). I accomplished the remote control using a service called LogMeIn (www.logmein.com), but any remote desktop software or service will do the trick. Remote desktop software lets you take control of the display, keyboard, and mouse of the remote computer from another desktop, laptop, or tablet, giving you full control as if you were sitting in front of the remote computer in person. In many ways, acting as NCS for the ADN that morning was little different than a normal Monday evening session. The only thing I couldn't do (thanks to N0WP and K4DND for their help) is to issue the DTMF tones to control the repeater configuration. I haven't net found an appropriate software package to do the tones remotely, but that's only a matter of time…



On Thursday evening I checked into the Northern Piedmont Emergency Net, again from my hotel room in Anaheim. This time, instead of fldigi I used Skype and a program that came with my DigiMaster interface that lets me control PTT by clicking a TX/RX button with the mouse.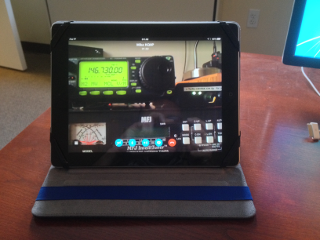 Skype setup was normal, except that I needed two Skype accounts (one for my shack computer and one for the laptop I had with me in Anaheim), and instead of telling Skype on my shack computer to use the microphone and speakers, I told it to use the audio in and out on the DigiMaster interface. Once configured, I once again used the remote desktop software so I could click the TX/RX button on my shack computer, and just talked into Skype as you normally would if you were on a normal Skype call. The sound quality was really quite amazing, just like sitting at home.
Everything worked better than I had expected, this being my first real attempt at this. The tools required are easily available (and free, in many cases), and the setup is straightforward. The biggest thing you need to worry about that you don't worry about at home is setting the timeout timer on your transmitter to three minutes, which is a requirement for remote operation. (The FCC doesn't want your computer crashing or your network connection failing and leaving your transmitter blasting away zombie-like while you scramble to regain control!)
So, next time you are out of town, give remote operation a try. It's much better (and cheaper) than those expensive hotel room movies!
73, Mike KQ9P