Radio: new Alinco DX-SR9T HF Transceiver with I/Q input/output. Photo Credit: Alinco.
The just recently released Alinco DX-SR9T is apparently starting to show up in retail channels. $800 HF rig with I/Q. 160m-10m. 100W SSB/CW. 2013 model. Requires external sound card but has I/Q inputs/outputs. BTW, The Alinco DX-R8T/E Receiver looks very similar but is receive only and has I/Q outputs and the DX-SR8T is a similar HF transceiver without the SDR I/Q feature.
DX-SR9T Brochure

Some other SDR Friendly standalone rigs: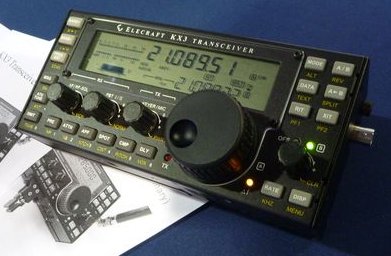 Photo: Dave Clausen (CC-BY-2.0).
Elecraft KX3. Backpackable 10W unit (optional 100W linear available). $1000 Assembled, $900 kit.
http://www.elecraft.com/KX3/kx3.htm
Requires external sound card but has I/Q inputs.
Flex radio 6000 series. An SDR rig with enough onboard DSP and a minimal front panel so it can be used standalon. $4300-7500
http://www.flexradio.com/
ICom IC-9100. $3100. Has a USB port.
http://www.icomamerica.com/en/products/amateur/hf/9100/default.aspx
The units shown above are standalone rigs that have SDR interconnects for Software Defined Radio such as I/Q analog input/outputs, USB, or ethernet. These let you do more than 3500Hz bandwidth USB audio and look at a 48Khz wide swath of spectrum, or wider.
Kenwood TS-2000/B2000/2000X appear at first glance to be SDR friendly, with the front panel being an option and depicted with a computer, but apparently lacks SDR features.