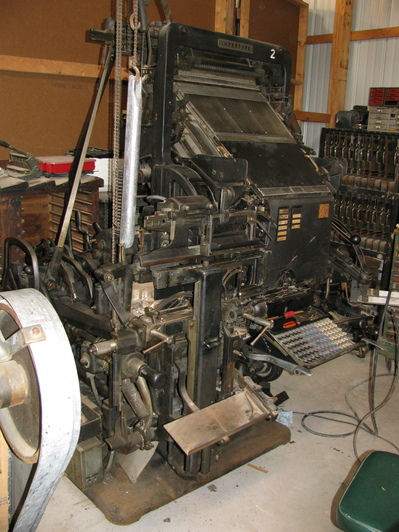 Intertype Machine (equivalent to Linotype).
Photo: AK4OL CC-BY-3.0-US.
Watch Video
It isn't ARRL field day. It isn't even a ham radio event. But it will interest many hams interested in old technology. It is an annual event with Steam Engines, Tractors, Humongous Diesel Engine, Saw mills, Machine Shops, Blacksmith Shop, Wood Shop, Rock crushers, steam shovels, Print shop including Intertype machine (similar to linotype), Wooden Spoon factory, Weaving Looms, spinning wheels, and sewing machines, Tools, corn shellers, cotton gin, sorgam mill, Petting Zoo, Panning for Gold, Old Fire Engines. When they tore down the original town of short pump to make way for the strip malls, they relocated the Garage, General Store, and Post office to the fairgrounds. The scale of this event is huge; they have the land all year round and thus can have a bigger show than one would ordinarily see.
http://www.fielddayofthepast.net/

The fire lookout tower shown here was relocated to the fairgrounds. Commercial rides (county fair style) on right.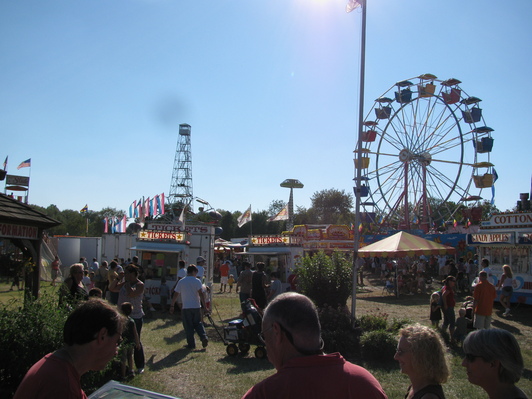 Photobucket Album with 324 photos from 2010.
Videos:
Intertype Machine and Treddle power printing press
26 Minute wagon ride around the grounds: Part 1 and Part 2.
Peeling a Log to make Veneer (8 minutes) and the rest of the spoon factory (1.5minutes).
Sawmill and Portable Sawmill
Huge Fairbanks Morse Diesel Engine (used to power a canning factory) and Houston, Standwood, & Gamble steam engine.