Fox Hunters from May 2013 fox hunt
This will be after our usual every other saturday breakfast. You don't have to come to breakfast but, like last time, we will have the fox there and turn it on at the beginning of breakfast so you can verify your radio is properly set up and hear what it sounds like and even test your antenna close in and at a distance. Then Mike KQ9P will depart early from breakfast and deploy the fox.
Fox hunting is a term for hidden transmitter hunting. One person hides the "fox" and the other people try to find it using radio direction finding techniques.
Frequency: 146.565Mhz
The fox was built by Paul McKee AK4OH.

Each individual participant doesn't need the necessary equipment but each team should have suitable Equipment.
A Radio receiver, scanner, or transceiver capable of tuning 146.565Mhz with FM modulation. It should also be able to tune either + or – by either 4Mhz or 2Mhz for use with an offset attenuator. I.E. it should be able to tune to either 142.564Mhz or 150.565Mhz if you have a 4Mhz attenuator. You should program these frequencies into memory or be able to quickly set them on the VFO. A radio which can't tune outside the ham 2M band will have trouble with a 4Mhz offset attenuator; if you are limited to such a radio, get a 2Mhz offset attenuator. Radio should have an S-meter (signal stength meter). Example radios: Yeasu VX-7R, Baofeng UV-5R, Baofeng UV-3R.
A directional antenna such as a Tape Measure Yagi or a loop antenna. You can try body fading or a reflector (cookie sheet) instead. Body fading probably will not be sufficient unless you are wearing plate armor (or a cookie sheet). An Arrow II satellite antenna, Portable Yagi, or an IOio antenna should work; however, it may be difficult to jump in and out of a car quickly and repeatedly with a large rigid antenna like this.
Successful teams last time used an Arrow Loop Antenna or a Tape Measure Yagi.
Passive or Active attenuators. The problem with passive attenuators is that when you get close, the signal goes through the case of the radio even if the antenna is disconnected; but they can help bring the signal into a range usable by your s-meter. I used a K1-VAT+ set of fixed attenuators ($50) last time. Successful teams last time both used an offset attenuator (made by arrow).
http://www.homingin.com/joek0ov/offatten.html
http://www.arrowantennas.com/main/4ofha.html
BNC to SMA adapter if needed for your radio. Also, you might need or want extra BNC to SMA adaptors for a stack of SMA attenuators
A second radio transceiver for checking in.
Motor vehicle suitable for use on public roads.
Maps of the area. Ones you can write on.
paper for logs. Or a netbook or tablet.
pen or pencil to write on maps and logs
compass – so you know what direction your antenna is pointing
Protractor for drawing on maps. May be built into compass.
Flat surface to put map on when drawing/writing
GPS receiver (optional)
Camera (optional)
Spare equipment to loan out (optional)
Rain gear
Spare batteries and/or car charger for radios, gps, camera, cell phones, tablets, netbook, etc.
If you don't have equipment, you can join a team that does. Or join up with people whose available equipment compliments yours. A ham license is not required to participate. However, at least one person on your team should have a ham license so they can check in or at least setup other method of contact such as cell phone; you don't want us shutting down the fox because we don't know you are still hunting. You don't have to have a team. Show up at breakfast and we will combine people into teams. You don't have to come to breakfast but then you should have your own team (even if it is only a team of one) and you should check in.
Understand the effects of topography. Reflections may be stronger than the "direct" signal because RF waves lose considerable power if they have to diffract over obstacles such as hills and mountains. You may get no signal at all in a valley or a signal from the wrong direction. Get a second opinion at a different location. People have asked what is the range of the fox? Realistically, the range is from here to the next major hill or mountain. Out in the parking lot by Panera Bread (barracks road shopping center, Charlottesville, VA) we could easily pick up the fox when it was just south of Rio Road but could not get it when it was in the sam's club parking lot. It was blocked by rio hill.
Data recording
Mark your bearings on your map and make a log of your bearings. I suggest you log:
Point #, Time, Latitude, Longitude, Bearing, Signal Strength, Attenuation, Location description, comments
Magnetic Declination
Here is the magnetic declination indicator from the Charlottesville West, VA Topo map: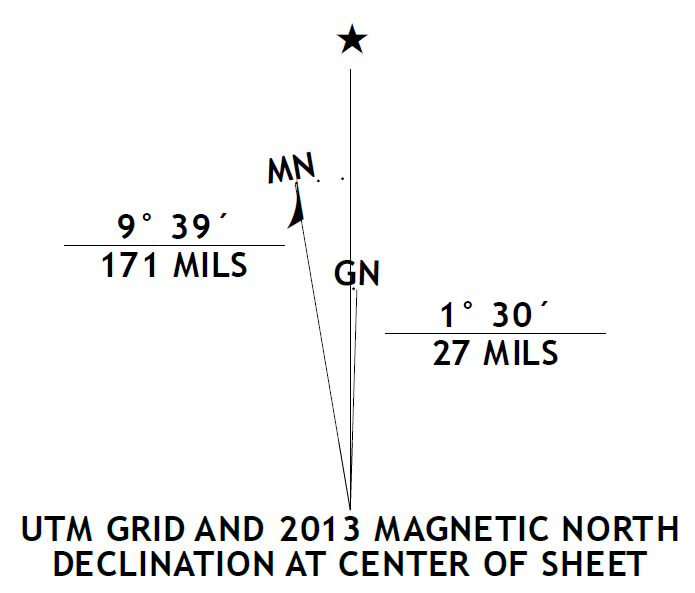 Magnetic north is 9.65 degrees west of true north (north pole). And the grid lines (Universal Transvers Mercator) on the topo map are 1.5 degrees east of true north.
Past articles
Note that the May 2013 fox hunt article has been updated with plots of bearings taken by Mark AK4OL and Colt.
maps
I believe that the fox will be constrained to Albemarle County. Mike Elliot will not be providing printed maps this time. Charlottesville/Albemarle maps are attached. Note that some of the county maps omit the city.
For more detail see Topo maps article. Albemarle county covers the following 7.5minute quads: VA McGaheysville, VA Swift Run Gap, VA Crimora, VA Browns Cove, VA Free Union, VA Earlysville, VA Barborsville, VA Gordonsville, VA Waynesboro East, VA Crozet, VA Charlottesville West, VA Charlottesville East, VA Keswick, VA Greenfield, VA Covesville, VA Alberene, VA Simeon, VA Schuyler, VA Esmont, VA Scottsville, VA Howardsville
Charlottesville Base Map 8.5×11 This is actually readable printed on a 600dpi laser printer (with a nearly empty cartridge) but the street names are very small and may need magnification. Most, but not all, streets are labeled.
Charlottesville Map with Street Index 24×36 This would probably need to be printed or posterized onto 11×17 or larger to be readable.
Albemarle Base Map Posterized onto 4 8.5×11 pages. Attached. I liked the output produced by poster better than that from pdfposter in terms of having usable margins and overlap (pdfposter produces a smaller more efficient file, though) even though that means doing more conversion between formats. Also, I reordered the pages so they would look good when viewed in 2up-continuous mode in acroread. For 1 up mode, use "A3 A1 A4 A2" order. Please note that most roads are still not labeled.
For geeks, here is the code to produce the posterized version.


wget http://www.albemarle.org/upload/images/forms_center/departments/Community_Development/forms/county_maps/Base_Map.pdf
pdftops Base_Map.pdf Base_Map.ps
poster -m 8x10.5i -c 5% -p 16x21i Base_Map.ps >Base_Map_C_size.ps
ps2pdf Base_Map_C_size.ps Base_Map_C_size.pdf
pdftk A=Base_Map_C_size.pdf cat A3 A4 A1 A2 output Base_Map_C_size_reordered.pdf
cp Base_Map_C_size_reordered.pdf Albemarle_Base_Map_4Page.pdf

Email from K8RVR
This coming Saturday September 28 we are having our second (at least in recent years) fox hunt sponsored by the AARC. We had a great time last hunt and hope to see an even bigger turnout this time.

For the hunt, you can form your own team, or go it solo! If you don't have any experience come on out anyway. We will put together impromptu teams in the morning before the hunt begins. Participants can drive, navigate or just go along for the ride. Everybody gets to share in the glory.

We are meeting at the Barracks Road Panera Bread starting at 7:00 am for breakfast, however you are not required to show up to breakfast to participate. Hunters can start from wherever they like. We do ask that all participants check in, either in person or by radio between 9:15 and 9:30 am. The fox will begin transmitting at 9:30 am.

The fox will be transmitting on 146.565 MHz.

The talk frequency will be the AARC primary repeater at 146.760.

If for some reason the .76 is not working, we will default to the 146.895 repeater.

For any that are interested, after the hunt a group usually goes out for lunch. It's usually a lively conversation.

Hope to see you there!