Marshal Manor Tower and Shack.
Photo Credit: AK4OL
This photo cost me 300 chigger bites.We had two Repeater Maintenance trips in the last week.
Wednesday 2013-07-24, Marshal Manor
Bill Pond N0WP
Jim Owen K4CGY
Al Bogden KF4AGT
Jeff Bogden KK4SHN
Mark Whitis AK4OL
Buck's Elbow, Saturday 2013-07-27
Bill Pond N0WP
Jim Owen K4CGY
Dave Damon K4DND
Mike McPherson KQ9P
Mark Whitis AK4OL
Read on to learn a little more about these two sites.

NOTE: I have had 5 physical events in the space of 1-1/2 weeks: Marshal Manor, Buck's Elbow, Miller School Road Race, Breakfast bunch, Berryville, plus writing about them before and also, in several cases, after. Plus recuperation from some of these events (back, chiggers, sleep, etc). Plus weekly nets (though I have missed some of those due to schedule conflicts). And I have been working on compiling detailed info on repeaters, frequencies, and making some propagation maps. Plus ACSAR, CERT, and TJMRC events and non-ham related activities. Thus, I am running behind. I haven't put everything here I would like to, but there is enough new info to warrant putting it on the front page.
Marshal Manor

Venomous Northern Copperhead
Photo: AK4OL, CC-BY-3.0-US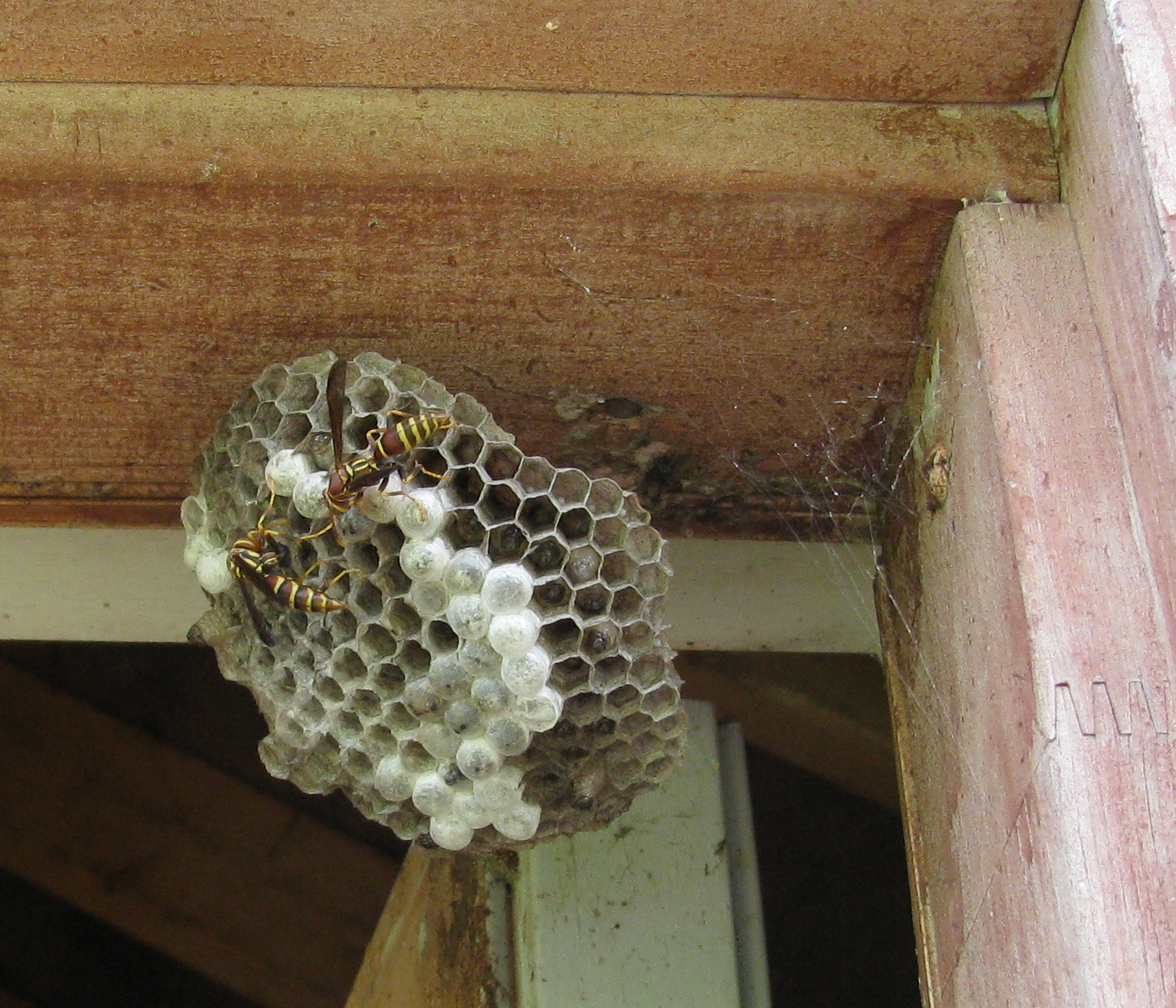 Wasp Nest
Photo: AK4OL, CC-BY-3.0-US

Feet with about 300 chigger bites
Photo: AK4OL, CC-BY-3.0-US
At Marshal Manor, we had to contend with ticks (did anyone get bit?), chiggers (at least two victims – Mark and Al), wasps (no one got stung), and large spiders. And it turns out we were working in extremely close proximity to three venomous northern copperheads (thanks to John White from the Virginia Herpotological Society for the ID) for hours before we realized they were there. I had about 300 chigger bites on my feet. The initial estimate was around 100 based on a neighbors estimate but after I counted 80 bites on on the right half of my left foot alone, I upped that to 300.
At Marshal Manor, the 440 transmitter and receiver were replaced with a vertex unit. The 2m receive preamplifier was bypassed (causes more frequent false carrier sense) and the time delay module was bypassed (causes the noise to sound like a weapon of mass destruction). And we cut the ground lead on the power supply 110VAC connection as it was substantially contributing to the problem. We also cleaned up the ground connections around the tower and ground rods as they were in very poor shape. They are still inadequate for lightning protection. This seemed to significantly improve the noise situation but we still had to disable the transmitter once on saturday. The firmware in the Repeater Controller was also updated.
It is the consensus of opinion that the tower is a Rohn 25G. Note that the bottom tower section seems to measure 9ft, not 10ft as expected. Top section is probably 9.5ft. And there is about 6″ of base section and concrete slab. Standard sections are 10ft.
Some hardware identified from pictures:
New repeater transcevier Vertex VXR-5000 UHF FM Repeater 6C130018, Installed 2013-07-24.
Arcom RC210 Repeater Controller Rev 3.1
Inside the Arcom repeater rack mount case is a small board that appears to be a communications specialties CTCSS encoder or decoder programmed by a dip switch.
There are some random boards hanging around. One looks like a voltage regulator, possibly for the CTCSS encoder board.
Two kendwood radios,TK880?, commercial looking. I think these were the ones which were removed and replaced by the Vertex on the 2013-07-24 trip.
Feedline from one the 146.760 antenna appears to be Heliax 7/8″ LDFS-50A PE
Polyphaser IS-50NX-C2-ME lightning arrestor. Poorly grounded.
Midland WR-300 weather radio serial no 120608270. Installed on 2013-07-24 but doesn't activate repeater yet (repeater doesn't respond to contact closure). 01: 051003 (albemarle county), 02: 051540 (charlottesville), 051065, -=051109, 051079,
Set of 4 unidentified Cans, 70cm duplexor
steetwires fuse block
Advanced Receiver Research model number unreadable in pic but probably preamp that was disabled as in increased tendancy for .760 repeater to key up on false signal
Two deep cycle lead acid batteries in parallel
Power supply under 440 cans
MFJ-264 Dummy load 1-650Mhz, temporarily brought up
Large set of cans, 2m duplexor
2m antenna believed to be a G7-144
70cm antenna believe to be a G6-440
Not club equipment (Tim miller KG4HOT 224.600 repeater):
Antenna on top of tower
Single point ground bar with two lightning arrestors, including one polyphasor IS-B50HN-C2-MA. and one that looks like a gas discharge tube
CAT Repeater Controller
Alinco DR-235 VHF FM Transceiver, display frequency 224.600. Not club equipment.
Alinco DR-235 VHF Fm Transceiver, Display frequency 223.000. Not club equipment.
Kenwood radio, TM-G707 display freqeuncy 433.575. In another pic, display says "LINK" and "9600".
Not club equipment.
Set of cans (duplexor)
Small box, looks like power supply
My garmin 255W GPS at base of tower: N 37.95954 78.511142?? Eleve 1206ft. Picture unclear.
Jeff's Motorola Droid phone: 37deg 57′ 35.447″, 078deg 30'40.402″ WGS84. No alt.
Another reading on my gps, sitting on concrete pad at base of tower. N 37.95989 W078.51112 Elev: 1195ft
Note thate these numbers don't look as good as my existing coordinates of: 37.959850,-78.51115, ground elevation 1181, antenna height TBD but around 106ft.
Bucks Elbow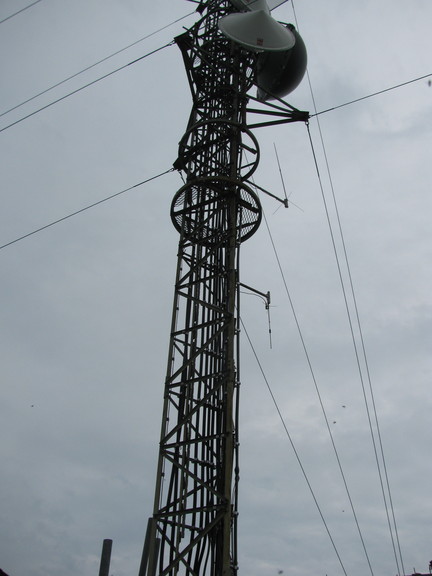 Bucks Elbow is the site of the AARC WA4TFZ 146.895 repeater, the AARC WA4TFZ 224.760 repeater, the CVRA N4PGS 146.730 Packet Node (2m 1200B) and the CVRA NVPGS 441.050 (70cm 9600B) packet node. This is one of the towers in the Albemarle/Charlottesville/UVA ECC P.25 digital voice system used by police/fire/rescue and other agencies and not only has the UHF antennas for that but microwave antennas to link to other tower sites. In addition, it has several cell phone carriers on the same tower. A separate site on bucks elbow slightly higher has FCC towers and another downhill appears to have even more cell towers. There also appears to be a single residence, a vacation rental retreat property called Skyline Crest. Another listing gives owners as Joyce K & Ken W. The realtor is Daniel O'Neill, +1-434-295-1402/+1-434-981-0655 and rental seems to be around $400/night. The peak is inside a 1400acre gated compound. Albemarle county leases the site to US Cellular. A couple other cellular carriers use this tower but the county is apparently avoiding leasing to other carriers. A permit request by ntelos that appears to describe the tower site just downhill from the County Site. FCC antenna site record for Albemarle County Buck's Elbow tower says it is 120ft tall; you can navigate from there to 4 other county tower sites. IIRC, we saw a house for sale on the road up to Buck's Elbow. Real estate on Buck's Elbow mountain road.
Buck's elbow is also the site of the 1959 crash of Piedmont Flight 349 (DC-3) with 26 fatalities and one survivor. The crash site is inside a fenced area, probably the same one that encloses all the antenna farms and the retreat. wikimapia gives coordinates of 38°6'13″N 78°43'44″W which are 0.99miles east (95.3degrees) and an altitude of 2376, about 800ft below the repeater site. Though I can't see wreckage on the satellite imagery (some of the wreckage is still supposed to be there picture Another picture). A picture of the wreck on panoramio shows up on google earth tagged with different coordinates: 38.103889,-78.733611; can't see the wreckage on satellite imagery, there, either. This is from a 2002 image which does not have embeded GPS info but the author says he originally used the wikipedia coordinates but then supstituted more accurate coordinates from his gps. Hook Oct 2009 article on Flight 349 crash. Crozet Gazette Oct 2009 article. Flight 349 crash facebook page. The page created by the sole survivor has links to directions for hiking upward to the site but this has disappeared from the web (and the web archive) and reports from the panoramio photographer above indicate it is getting harder to get there without going through someones yard. This page mentions that HikingUpward the directions had been pulled due to landowner issues but that author did not see any posted signs. this hike report gives several paths, the route they took up, the route they took down, and the route they think they should have taken; without coordinates. trimbleoutdoors has someone's 2012 route gps tracks (downloadable but registration required); it notes that it is a very difficult hike. this post suggests that the landowner at the top may be the same one that owns the crash site Meridith Montague's page with pics from a 2009 hike.
At Buck's Elbow, although some of us did take the precaution of using bug repellent (I certainly did after 300 chigger bites), we mostly stayed inside the fenced in gravel covered compound (except for KQ9P who was doing WiFi tests) where we did not have issues, as far as I know, with bugs or critters, other than Ben the friendly dog of the Skyline Crest's realtor.
At bucks elbow, weather prevented us from replacing the antenna. And we found we had to take the link radio back down so the polarity of the COS (carrier sense) signal could be changed as it does not go close enough to ground in the active low configuration. However, the repeater controller firmware, was upgraded and the weather radio was reprogrammed. The weather radio was set for greene and orange counties and is now set for Greene county (051079), Charlottesville city (051540), and Albemarle County (051003) SAME codes.
Measurements using KQ9P Garmin GPS 60 (+/-20ft) directly below 2M antenna: 38.10471,-78.74489 and 3142ft (at ground level, this changed by about 8ft while watching). This lat/long is slightly different from, but about as accurate, as the previous readings I had of: 38.104681°,-78.744878°. However, it appears to put the antenna on the west side of the tower instead of the east on google earth while the old ones err to the south a bit. I took another reading, before changing the display mode, that claimed +/-15ft that converts to 38.1047,-78.744867. The GPS receiver actually had a hard time obtaining a lock inside the fenced in enclosure and I took it outside long enough for it to get an initial lock. Right now, the previous reading of 38.104681,-78.744878 number looks the closest when you adjust for shadows in the imagery (the shadow of the tower and catwalk is more visible than the tower/catwalk itself).
Antenna Height. The ham antennas appear to the right of the tower in the picture above, one facing up and the other facing down. The tower is 11ft 3.5″ high at the top of the bottom tapered section (tape measure). Each truss section above that appears to be 3ft (pixel ratio). This would put the feedpoint of the lower antenna (upside down) at about 28.675ft and the upper antenna (right side up, 146.895Mhz) at about 39.6ft (pixel counting between truss sections). Note that these antennas were lowered at some point to make room for a microwave dish; this is why there is a coil of excess feedline. The antennas are apparently a Diamond X3200Z 2m/1.3m/70cm tribander (top, voice, 146.894 and 224.760 and probably link radio as well) and a Cushcraft AR270 2M/70cm dual bander (bottom, packet). The top antenna is damaged and was to be replaced but wasn't due to weather conditions.
Bucks Elbow Equipment:
Arcom AR310 Repeater Controller (146.895)
Vertex VXR-9000V-H repeater transcever (146.895)
Polyphaser IS-50UX-C0-MA (note, this is better matched to an HF transceiver).
Riggunner 4010S
Astron RM-35M power supply
Remec WACOM WP-641 BPBR Duplexer TX 146.090, RX 146.690
(with wacom proticts modified RG-214A double shielded coax between cans)
Wacom BpBr Circuit Duplexer Model WP-652 Seriel 12610 TX Freq 224.100 RX Freq. 222.500
MX-324 Triplexer (small)
triplite isobar UltraCopy Diagnoistc Suger Supressor and Noise Filter (120VAC, 20Amp)
Hamtronics REP-200 Repeater. Serial #1093. Seems to have transmitter built in but use an external receiver (alinco).
Alinco DR-235 MkIII VHF FM Transceiver. Display freq: 223.160 (note: model seems to be DR-235T Mk III on back/side sticker)
Kenwood TK-762HG-1 VHF FM Transceiver: Display freq 145.730 (packet node)
Kenwood TK-860G-1 UHF FM Transceiver. Display freq: 441.050 (packet node)
Kantronics PacketCommunicator 9612
MX-72N Duplexer (small)
Midland Weather Alert radio. Photograph of model number was out of focus but like WR-100 as opposed to a WR-120 or WR-300. Serial number: 70767357
Link radio, removed for reprogramming, an Elmer special (commercial radio)
Antenna (see above)
Antenna (see above)
On both trips, I (AK4OL) used GPS to locate the antennas and took extensive photos for documentation purposes. Around 240 pics at Marshal Manor and 140 at Buck's Elbow. And some at the miller school bike race. About 2.3GB of pictures total in 1 week., so I am probably not going to just upload them all.
Emergency Communications Center (ECC)
As a bonus, K4DND pointed out the location of the pre-deployed antenna on top of the ECC when we got back from the trip to Buck's Elbow. It is the one on the right. There is a predeployed radio inside in the small room (know Allison's office) between Kirby's office and the conference room. And there is an antenna switch above the ceiling tile in the conference room that lets the antenna be switched to the conference room.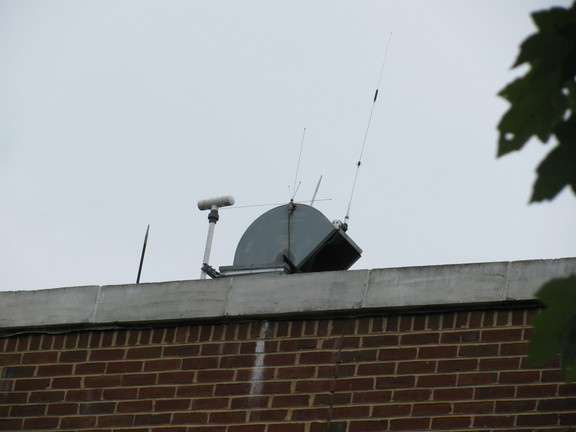 I recently stumbled on this page which has some info on the sites and the P.25 system topology:
ENVIRONMENTAL IMPACT REVIEW, EMERGENCY COMMUNICATIONS RADIO TOWERS, PETERS MOUNTAIN, CARTERS MOUNTAIN,
AND FAN MOUNTAIN UNIVERSITY OF VIRGINIA, AGENCY 207
CHARLOTTESVILLE, VA. lists ECC communicatins tower sites: Fan Mountain, Bucks Elbow, Peters Mountain, Carters Mountain, Emergency Communications Center, and Klockner Stadium at UVA.