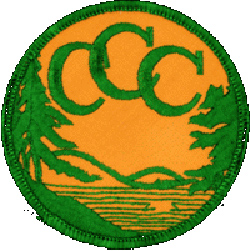 Dirk KG8JK in Petosky, Michigan, is organizing the first of what he hopes will be an annual Civilian Conservation Corps (CCC) On-The-Air Weekend on 9-10 August 2014. More information about his effort is available at Dirk's event Web site and in the ARRL news item on the topic.
For details about the AARC/Camp Albemarle operation, see the main article (below).
Read more below the fold.

UPDATE: All contacts have been uploaded to LotW. Certificates are available at www.kq9p.us/cccota2014. Thanks for participating!
Our plans for the on-the-air portion of the CCC On-The-Air Weekend are simple.
| | |
| --- | --- |
| Callsign | W4DO |
| Location | Camp Albemarle (Camp S-60, Company #1390), 1675 4-H Way, Charlottesville, VA 22901 |
| Operating hours | Sat, 9 Aug, 10am-10pm EDT; Sun, 10 Aug, 8am-5pm EDT |
| Operators | Just show up! I plan to be there the whole time and will operate when no one else wants to, but I will be happy to turn over the station to someone else! |
| Station | Icom IC-706MkIIG equipped for HF phone, CW, and digital modes (operator's choice) |
| Antenna | Carolina Windom 80-10m |
| Operating frequencies (CW) | 3.550, 7.050, 14.050, 21.050, 28.050MHz |
| Operating frequencies (phone) | 3.950, 7.250, 14.250, 21.250, 28.350MHz |
| Operating frequencies (digital) | Customary digital operating frequencies for each band/mode |
| Nets (phone only) | Sat, 9 Aug, at 8pm EDT on 40 meters (7.250MHz); Sun, 10 Aug, at 1pm EDT on 20 meters (14.250MHz); Check-ins will be taken from activated CCC sites only, but anyone is free to eavesdrop (as always with ham radio). |
| QSL (electronic) | We will QSL 100% via Logbook of the World. |
| QSL (paper) | To receive a paper QSL card, please send a SASE to Mike McPherson, 910 Charter Oaks Dr., Charlottesville, VA 22901. |
| Certificate | A commemorative certificate will be available, but I'm going to try something a little different. I will create certificates customized for each QSO and make them available for download as printer-ready PDF files at www.kq9p.us/cccota2014. |

Why should hams care about this? Amateur radio was the main means of communications with many of the CCC camps! The camps were located in rural areas without electricity or telephone service, so the Army (which administered the CCC camps) put an amateur radio station at many camps and recruited and trained amateur radio operators to run them. There were regular CCC nets to move traffic around the camp system, and I'm sure the operators spent their idle moments chewing the rag, as hams will. The idea of the On-The-Air Weekend is to get as many of the camps back on the air as possible.
I became interested in the CCC during the 30 years that I lived in Michigan, where the Corps had such a profound impact on the landscape, replanting the vast forests that had been clear cut during the 19th century. Here in Virginia the impact was at least as great, if not quite so immediately obvious. We owe our state park system to the CCC, along with many structures on the Blue Ridge Parkway and Skyline Drive, and many other familiar Virginia landmarks. The dam that created Lake Albemarle was built by workers from the local CCC camp. Virginia was the fifth-largest recipient of CCC dollars and had well over 100 CCC camps in operation at one time or other.


The site that the AARC will be activating for this event is 4-H Camp Albemarle. The 4-H camp was built by workers from CCC Camp Albemarle (Camp S-60, Company #1390), located on the Moormans River near White Hall. The CCC camp was converted into a POW camp late in WW-II, then passed into private hands and no longer exists. The 4-H camp, however, remains much as it was when the Corps completed it, retaining all but one of the original buildings. The Camp Albemarle board enthusiastically supports this event, both for its historical value and for the tie-in between amateur radio and the 4-H mission of promoting science, technology, engineering, and math (STEM) education.

View Larger Map


If you would like to get involved in this activity please send me email at mike@kq9p.us. I'll add you to the event email list. We'll need people to help with setup and to operate on the event weekend.
73, Mike KQ9P