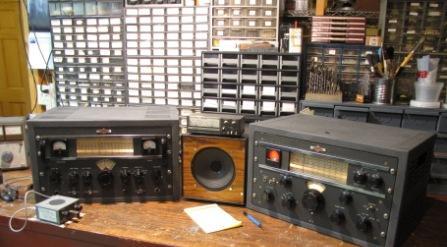 The monthly meeting of the AARC has been postponed and moved. Our normal meeting location is unavailable due to the government shutdown and our backup location is in use that day. So we expect the meeting to be held a week later than usual.
From the beacon:
John Green KX4P will be giving the program at the October 8 AARC meeting. The topic will be
"Restoration of some Old Collins Radio Classics." The program includes photos of his restoring a 75A1 receiver and a 32V3 transmitter. These are genuine "boat anchors!" Included in the program are some movie clips made by Matt (formerly KD4COA) and Jim (K4BAV) Wilson of the station operating CW and AM Phone. As an added incentive of interest, you can see the same units being displayed in "K2TQN's Mobile Museum" in the current October QST, page 99. The program should be of interest to old timers, collectors, those interested in restoring old treasures, and every one interested in our great amateur radio heritage.

Update on location:
Joe, W2PVY has arranged for us the meet in the De Pietro room at Our Lady of Peace, 751 Hillsdale Drive, Charlottesville, VA 22901. The room is located on the first floor of the facility. Just take the elevator down from the lobby and turn left. Walk to the end of the hall toward the Chapel and turn left again. The meeting room is straight ahead.

We may park in any of the visitors spaces. There is additional parking immediately south of the facility in the north lot of the Church of the Incarnation. A sidewalk leads from this lower lot up some stairs to the facility.

I want to thank Joe for making this possible. I look forward seeing all of you at the meeting on Tuesday October 15th!

73 de K4DU
geo:38.073306,-78.473629
Google Maps
Public Transport
There is a bus stop directly in front of the building. "Hillsdale Drive at Mall Drive", #16605 and is served by route 7, though two other buses appear to drive by.
Nearby (1000ft as the crow flies) #16596 Fashion Square Mall is served by:
routes 5 (Barracks road/Commenwealth/Four Seasons, Berkmark, Fashio Square, Albemarle Square, Rio Hill Shoping Center/Walmart),
Route 7 (Fashion Square/Seminole Square/Barracks Road/UVA Hospital/Downtown Mall).
Route 11 (Fashion Square/CATEC/Downtown via Rio Road).
Route 7 and Route 5 runslate so should be available after the meeting; Route 11 you might have to leave a few minutes early to catch the last bus.
Note that routes 7 and 11 have changed recently.
Catch the CAT
Google Transit
Google Transit data files