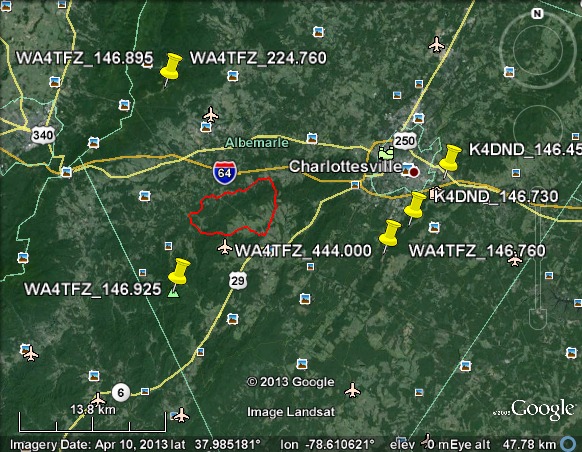 Route shown in red with repeater locations as yellow thumbtacks. Click to enlarge or view on
google maps
or
RideWithGps
without repeater locations.
The miller school race is on Sunday, July 28th.
Volunteers are needed; Contact Joe Flamini W4BXG (contact info in club roster). Drivers and vehicles will be provided for the follow operators, so you don't need to put around 222 miles on your car (estimate from last year – it was basically a 16mile course but there are a lot of races and most have multiple laps). In addition, Joe will have a couple mobile radios with cigarette lighter plug and mag mount antennas available.
We will be using the 146.895Mhz repeater on Buck's Elbow. -0.600Mhz, 151.4Hz. Lat/long: 38.104681, -78.744878. Elevation 3149ft+50ft.

Here is last years race route, which may or may not be the same, on a site that lets you download and at least resembles the pdf map:
http://ridewithgps.com/routes/1511791
Includes elevation profile along route. Click on export for KML and GPX file format links. This looks very similar to the map, however, the 6 numbered waypoints, police, course marshal, start/finish markers, and road closure do not appear. Also/the start finish locations are at different locations along the loop. But it at least has the basic route info. For those who would like to see it in google maps, use this url:
https://maps.google.com/maps?q=http://ridewithgps.com/routes/1511791.kml
Last year we had 7 operators scheduled for the morning and 9 for the afternoon, including 5 who worked both.
| | | | |
| --- | --- | --- | --- |
| Position | Tactical Call | Morning | Afternoon |
| Miller School Canteen | Canteen | | |
| Finish | Finish | | |
| Follow Race 1 | Follow 1 | | |
| Follow Race 2 | Follow 2 | | |
| Follow Race 3 | Follow 3 | | |
| WARS Ambulance | Ambulance | | |
| Float | Float | | |
A PDF map for this year is attached and a preview wlll probably be shown here, depending on your browser.

This route appears to be completely shadowed by mountains from the 146.760Mhz repeater and Charlottesville. Sprouse Mountain, Israel Mountain, Martins Mountain, and Taylors Mountain are inside the race course. Bear Den Mountain, Newcomb Mountain, Woodson Mountain, Ragged Mountains, Pryors Mountain, Gibson Mountain, Britts Moountain, Piney Mountain, and Dudley Mountain are between the race course and charlottesville (145.450Mhz, 444.250Mhz), carter mountain (146.730Mhz ) , and/or marshal manner (146.760Mhz, 444.000Mhz). In addition Mount Jefferson (aka Observatory Hill), Louis Mountain, Round Top (note that there are several different "Round Top" Mountains in the immediate area), and Stillhouse Mountain are between the route and much of Charlottesville. moses mountain, castle rock, high top, burnt Mountain, and tom mountain are between the Heard Mountain repeater site (146.925Mhz). yellow mountain, gillums mountain, little yellow mountain, and Beaver Creek Mountain are between the race route and Buck's Elbow (146.895Mhz, 224.760Mhz). Mountains taken from KDE marble.
Topo maps: 7.5minute quads: Charlottesville West and Crozet. These are large free downloads in GeoPDF format with roads, countour lines, shading, and satellite imagery layers. Under linux, use the adobe acroread as the other alternatives don't allow turning layers on and off.
Update
We were significantly understaffed.
Working this event were:
Joe Flamini W4BXG. Organizer and he was there to set up but then he had to go work at his "day" job.
Mike McPherson KQ9P – worked a follow vehicle and then race headquarters
Greg Faust N4PGS – was mostly there in his western albemarle rescue squad capacity. He had a ham radio but the volume turned down so he could listen to the rescue squad radio as he was the only full EMT working western albemarle that day (one other person with basic life support (BLS) training was staffing an ambulance). He could have been called away to emergencies at non-race locations if there had been any. Had trouble hitting the 895 repeater on his HT and was very sensitive to position and couldn't hit it at all when his battery went low. Stationed at Platt Road and Miller School Road where his rescue squad vehicle was parked. There was also a medic vehicle (Medic1) running follow.
Marty Wangberg W4MBW – Was stationed at the finish line
Andrew Wiley KK4SHO – worked one of the follow vehicles
Mark Whitis AK4OL – worked intersection of Platt Road and Miller School Road, last turn before finish line. Primarily there to dispatch N4PGS in the event of an emergency. However, called in each group of racers as they turned.
KE4DDR – follow vehicle
David Webber KK4SHJ ? – Arrived around lunch time to be misinformed by a non-ham that the race was almost over, so he left. Apparently he couldn't hit the 895 repeater from where he was with that radio.
We had stationary stations at the finish line and at the last major turn before the finish line (Plank Road and Miller School Road,#6 on map. We did not have a ham at Race HQ for the first part of the race, until after lunch when one of the follow vehicles dropped out. We did not have hams at #1 through #6 or the starting line. Extra hams could have been used at Race HG, #5, or even between #5 and #6 (closer to #6), and then the other locations #1-4.
We had multiple radio systems in operation: Ham Radio using the 146.895Mhz repeater on Buck's Elbow. Rescue Squad Radio (using the county P.25 system, probably also the Buck's Elbow tower). Police Radio (using the county P.25 system but a different channel from rescue squad). Race Radios. Race officials had their own radios, apparently LMRS radios probably rental/loaner units. Some hams had the Race Radios as well, but they ran out.
Between Platt Road and the Finish line (which was located on Miller School road somewhere between Platt Road and the School) was a radio dead zone with very poor reception. Reception at corner of miller school road and platt was not great. UV-3R (2W) and short (few inches)factory antenna, I could not hit repeater. With same radio and thick 9″ BNC multiband rubber duck, I was able to hit it from the intersection. I also used one of the club's mag mount on my vehicle roof when the mag mount on the hood wasn't strong enough (at the time it was quicker than moving the other antenna) when I moved my car to within sight of the intersection because of dead battery, even with the higher 5W transmit power.
Repeater noise: We had substantial problems with the 146.895 repeater responding to noise. KQ9P turned net mode off (and thus CTCSS on) for a while and this helped. But since we didn't hear from a couple people for a while, KQ9P turned net mode back on for a while and the problems returned. It was hard to squeeze in a command to turn net mode off when the transmitter was continuously keyed up by noise until timeout.
Batteries! I drained the battery on the UV-3R, didn't have my spare with me. Drained the battery on my Yaesu VX-7R (probably not fully charged). Used the emergency AA battery holder on the VX-7R but could only get out for a few transmissions before power was too low to key up the repeater. Should have brought spare batteries for each radio plus my heavy deep cycle AGM battery. It isn't always convenient or feasable to use your vehicle at a stationary location so you should have alternate plans for power and antenna.
Battery and repeater noise happened at inconvenient times.
Antennas! Antenna matters. Marty had a J-pole mounted on his tent. The follow vehicles had club Mag Mount antennas. N4PGS had trouble getting out with his rubber duck at the same intersection where I had been getting out fairly well with a 2W radio and a big rubber duck.
Tents: Marty brought an E-Z up style tent (different brand) and set it up at the finish line; next to the one used by race officials. I set up an E-Z up tent at Platt Road and Miller School Road when it started raining.
Rain gear: I had a poncho and a tent with me which was fortunate as we did have heavy rain for a while in the afternoon. It was tricky running the radio in rain gear. The VX-7R also easily bumped off frequency. Also, I had my ANSI traffic vest which was good since I spent a lot of time in or near the road.
Waterproof paper: My inkjet printed map (provided y Joe W4BXG) was not printed on rite-in-the-rain paper or tyvek and wasn't in a sheet protector. Also have a note pad handy to write down things like the tag numbers of the last few racers outstanding (which was relayed by a vehicle that had to move on quickly due to traffic).
At the intersection of Platt Road and Miller School Road, visibility was poor.
We had one ham (AK4OL), one rescue squad person who was also a ham (N4PGS), one police officer (Jim), and one flag person with a slow/stop sign. We positioned her at the bend on Miller school road to stop traffic before it got to the intersection. Racers turned the corner at high speed and often went into the opposing traffic lane (one even hit the embankment on the other side). You also did not want to stand on the inside corner of the turn. Visability on Platt Road was poor (another bend in the road) and we could have used a ham down the road to tell us when bikes were coming. We did not have a race radio at this intersection but we did have Ham, Police, and Rescue radios. Escort motorcycles didn't always use horn/siren to warn us when they approached and stragglers were often unaccompanied and unannounced.
We had only one medical dispatch. A rider was reported down and injured near the driveway to miller school (I believe this report came on police radio and Greg was notified by voice and I relayed it onto ham). Greg took the rescue squad vehicle but reported no injured person at scene.
We did not have ham's at most of the major intersections.
Information on which riders were outstanding was sketchy. When we went to lunch, for example, there were 0,1, or 2 racers outstanding depending on different accounts. Not all riders were ahead of follow vehicles.
It sometimes wasn't clear which motorcycle escorts or vehicles served what function or which groups of riders were which. You had the breakaway group, the main pack, and often many stragglers. And several staggered race groups could be on the course at the same time each broken into groups. And sometimes the breakaways nearly or actually overcame the stragglers of the group ahead. And we would see groups of stragglers who had very different numbers suggesting they weren't even from the same group (such as a 200 series rider with several 700 series riders).
There were a few instances were support vehicles were operating too close to riders (overtaking riders at or near turns).
We did have a few riders who dropped out and were looking for alternate routes back (avoiding the steep hills). We also had a couple riders who rode against the flow.
Many of the riders took the trouble to thank us for keeping them safe as they passed.