Sun Mar 30, 2014
Arrive at 7:30AM, safety meeting at 8:15AM; drivers must attend.
Homepage: none
Route: http://www.mapmyride.com/us/charlottesville-va/jeff-cup-loop-route-1547968
Registration: https://www.bikereg.com/22430
Facebook page: https://www.facebook.com/JeffersonCupRoadRace
Start location:
Leslie H Walton Middle School
4217 Red Hill Road Charlottesville, VA 22903-7922
+37° 55′ 15.58″, -78° 33′ 8.78
geo:37.920994,-78.552439 (calculated from above coordinates)
geo:37.921495,-78.551065 (from google map link on bikereg)
UTM: 715135.8128E 4199874.193N Zone 17
Prepare for rain. Weather forecast as of this writing means rain is likely all morning and possibly into afternoon. At these temperatures, being wet carries a risk of hypothermia!

Volunteers
Name
Call Sign
Position
Flamini, Joe
W4BXG
Wiley, Andrew
KK4SHO
Net Control
Whitis, Mark
AK4OL
Jim Owen
K4CGY
At house, 800′ from race (refreshments?)
Rein, Michael
KA4JJD
Haugh, L. Dayton
AA4DH
Standing by with rescue Squad at Finish Line
Eicher, Larry
K4JZQ
Wangberg, Marty
W4MBW
Webber, David
KK4SHJ
Mobile SAG(?)
Hello Everybody,

For those of you that got my first email, I apologize this is an update to what I sent you and for those of you that didn't get my first email, here goes. First and foremost, thank you all for volunteering for the Jefferson Cup Bike Race, you are a big help to amateur radio communications and to the Jefferson Cup Bike Race organizers. Everyone should plan to gather at Walton Middle School no later than 0800. Please plan to arrive early as parking will be at a premium and we have a lot go through to make sure that we are ready. There will be a safety meeting at 08:15 for all volunteers involved. I will have AARC two meter radios to pass out to all mobile operators.

We will be operating on 146.760 (pl 151.4). I will be Net Control for this bike race. Attached, you will find all of the information about this years' bike race, assignments and a map of where the course goes. If you have any questions or comments, please feel free to let me know. Please plan to bring a comfortable chair, water and any refreshments you may need. At lunch time, there will be pizza and drinks for all bikers and volunteers at Walton Middle School. Net Control will put out a call at that time.

**New this year, we will have a Crash Team. This will consist of a EMT, medical staff and a ham operator. Their job will be to quickly react and cleanup any bike accidents that may occur on the race route. The ham radio operator needs to let Net Control know the following should there be crash 1)Where is the crash? 2)How many racers are involved? 3)Are there any injuries? (if so, how many) 4)What is the best detour around the crash? Net Control will then dispatch rescue if need be and any other resources needed to mitigate the incident. Net Control will let the race organizer know about any crashes, injuries, etc. so that they can notify the appropriate people. If possible, the next mobile unit on scene of the accident should assume traffic control duties radioing to all other stations where they are and the best route around the crash.

The crash team will go out with all races. At the end of the race, net control will need for a mobile operator to run the course and find any last racers and bring them back to the start/finish line AND/OR Walton Middle School.

That is all the updates I have. Again, thank you for volunteering and I look forward to seeing all of you at 08:00 on Sunday, March 30.

Andrew
GPS Data
UPDATE: Added waypoints.
Jeff_Cup_Loop.gpx Jeff_Cup_Loop.kml – The route
Jeff_Cup_WayPoints.gpx Jeff_Cup_WayPoints.kml – Individual waypoints for mile markers, corners, and start.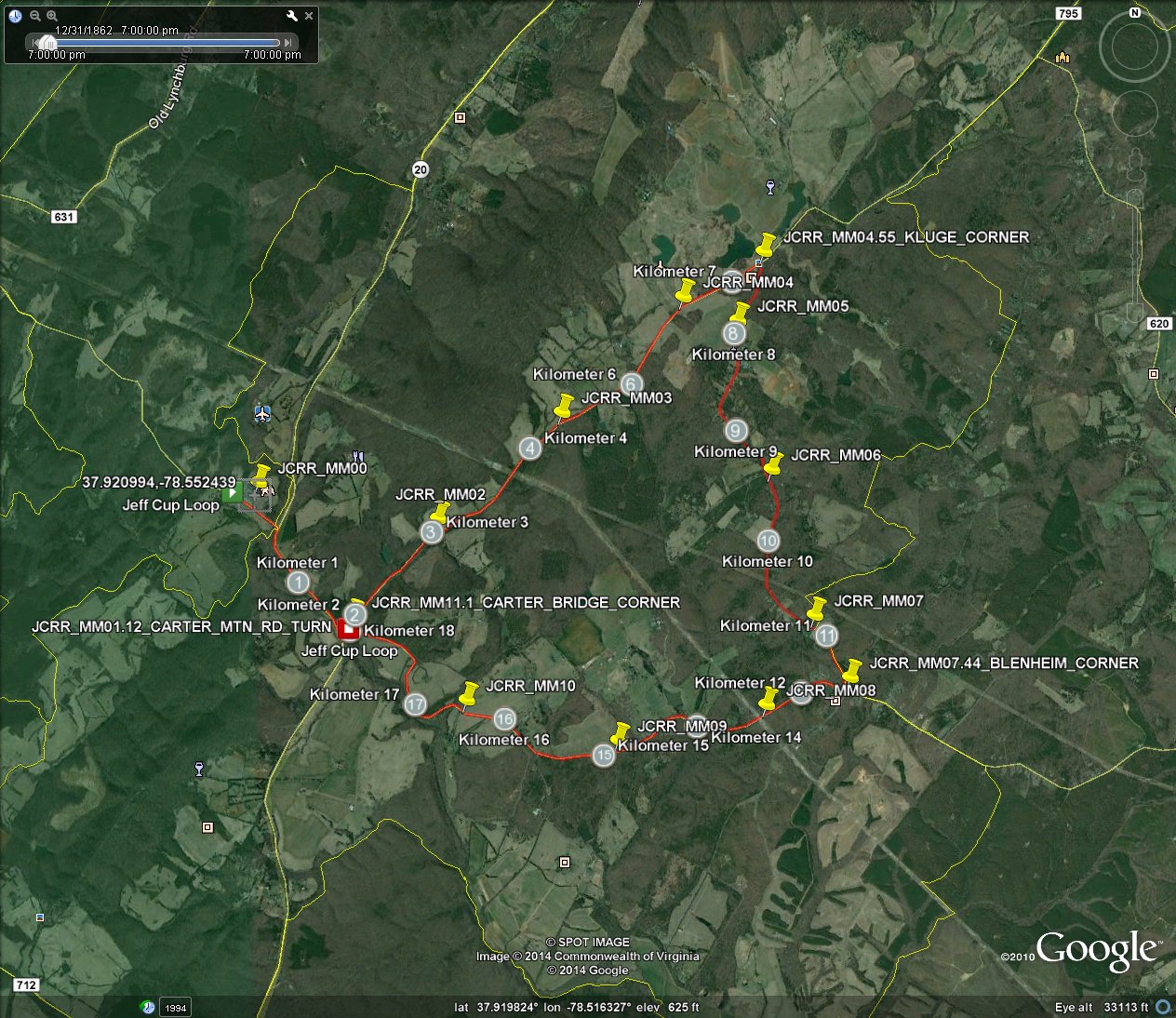 Propagation Forecast
Coverage of the first three miles and the last mile of the loop is pretty marginal on 146.760, 146.895, 146.925, and 146.730 repeaters. This is the western third of the course.
Propagation forecast (signal strength on each repeater vs mileage along gpx/kml file path):
https://www.albemarleradio.org/sites/default/files/Jeffcup_plotpath.pdf
The following images show terrain around the Jefferson Cup route. The first shows a view from above carter mountain looking over the shoulder of the 760 repeater. Elevation is still higher than antenna view shows 760 repeater tower looking towards Jefferson Cup Road Race route (red). Second shows view from south looking north, yellow push pin is 760 repeater. Elevation is exagerated by a factor of 3. Right click and select view image in a typical browser to see more detail.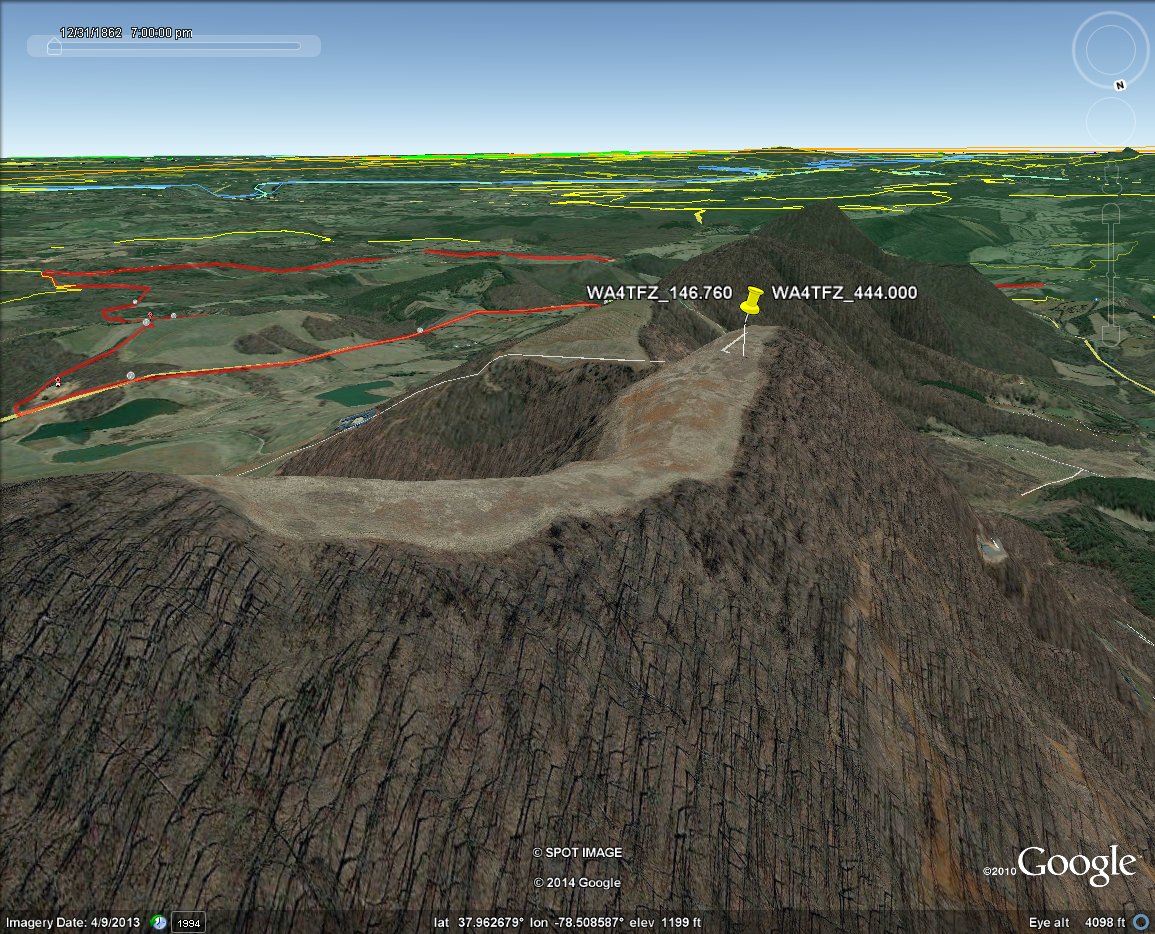 Gear to consider
– Handheld Transceiver
– Radio manual
– Fully Charged HT Battery
– Fully Charged HT spare batteries
– HT car charger cable and/or battery eliminator
– Mobile transceiver (some may be provided).
– Rain Gear
– Cold Weather gear
– AARC or Class II safety vest.
– rain protection for your radio/papers, etc.
– Chair
– snacks
– drinks
– GPS (AK4OL has some spares, WITHOUT dash/windsheild suction cup mount)
– pop up tent
– Mag mount antenna for mobile use (some may be provided)
– Jpole or similar antenna, feedline, and means to attach to pop up tent.
– Fully charged cell phone
– cell phone spare battery or USB booster battery.
– cell phone charger cable
– ziplock bag or other rain protection for cell phone.
– scanner set to 151.625Mhz simplex (91.5Mhz tone) race radio LMRS red dot frequency, if desired (very close to MURS in frequency).
– Clipboard with Printout of attachments on this page. Include waterproof sheet protectors. Pen and paper.
– 12V power strip
– Deep Cycle AGM battery pack, car jump start pack, etc.
– Paper map.
– Bike rack if you will be using your personal vehicle for SAG, follow, crash, etc.
Paper Maps
USGS Albemarle county Topo map. 20 years old. Many streets not labeled and some may be missing entirely. Available at VA Department of Mines, Fontaine Research Park
Map Supply, Inc. Large Print Charlottesville Albemarle County Virginia Street Map. ISBN 1–30064-123-7. UPC 8-14696-51245-7. www.mapsupply.com $5.95. Was available at Staples once but haven't seen it there since. Available online. Note that has even small streets labeled. Does not have Meadowbrook parkway/John Warner highway changes. Street map only. No topo or aerial view. Lacks Lat/Long and UTM grids. Jefferson Cup loop is on map sections 85 and 86.
USGS 7.5Minute Quadrangles: This race is on the Simeon and Alberene Quadrangles. These are the two quadrangles below Charlottesville East and Charlottesville West. Available at Blue Ridge Mountain Sports or from VA Department of Mines. Newer version, with aerial/satellite imagery layer (requires adobe acrobat reader to turn layers on/off) can also be downloaded.
http://ims.er.usgs.gov/gda_services/download?item_id=5951255
http://ims.er.usgs.gov/gda_services/download?item_id=5951355